Trails are being rolled out and set, but we still need more snow – so quick everyone please go do your best Snow Dance so we can get all of our amazing trails groomed!
The Yellowknife Ski Club, however, has been buzzing with kids and adult ski programs that are in full swing and we have snow in the forecast for this weekend!!
Don't forget to come by tomorrow to ski into the magic of the candy cane forest. Trail fees are waived for the whole day. From 1-3pm Ski with Santa and enjoy hot drinks and snacks in the chalet. Vaccination required for 12 & up to participate in events.
Mark Your Calendars – Upcoming Coaching Courses!
We are pleased to have an upcoming session of Community Coaching (CC) being offered in the evenings the week of Jan 24-28th. This is for anyone wanting to train to coach or substitute coach this winter. This is an introductory course suitable for anyone interested in developing their coaching skills. This course will increase your confidence to coach young children.
Learn To Train (L2T) will be January 28/or 29-30. This is for higher-level instruction for those wanting to coach Track Attack. This program will develop your skills to deliver a well-rounded program for athletes aged 9-12 years old.
No major coaching commitments are required to sign-up. But be forewarned, coaching is so much fun you are likely to get hooked! Email Bernadette at ykskiclubprograms@gmail.com More information here: https://nordiqcanada.ca/coaches-and-wax-techs/coaches/coaching-development/
SKINGO BINGO
A reminder from our Events Director, Kerry Wheler, to fill out your SKIGO BINGO cards: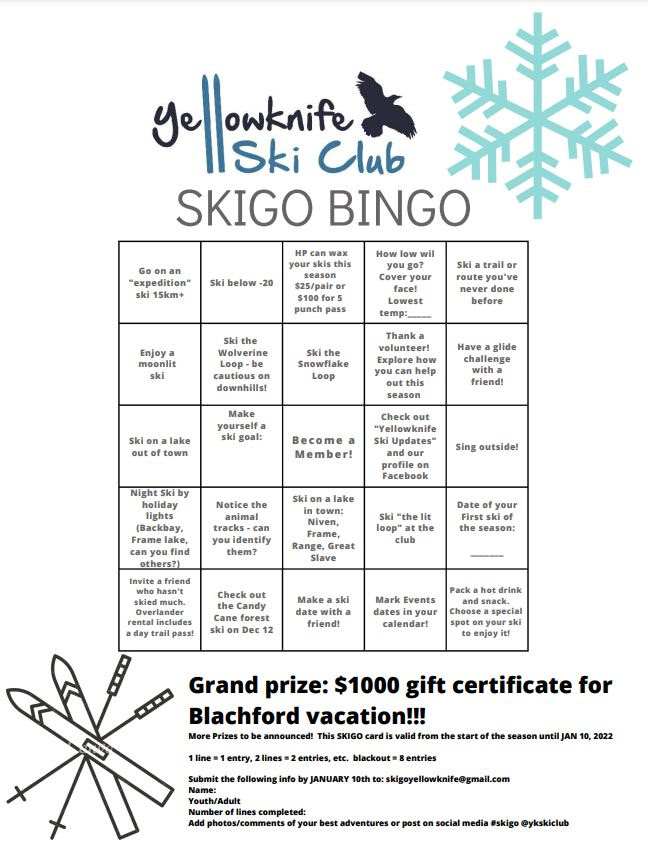 Download the adult and junior cards by clicking this link, get outside and start skiing, and prepare to win amazing prizes, including $1,000 towards a Blachford Lake Lodge Ski Vacation.
One line will get you one entry in the draw; two lines equals two entries; and a blackout will get you five.
Deadline is Jan. 10th. Send completed cards (or rather, photos of them) to: skigoyellowknife@gmail.com.
Adult
Ski

Lessons

It's never too late to learn new skills or to improve your technique! There are a few spots still left in our 2-day adult ski lessons on Dec 22, 23 (introduction lessons) and December 27, 28 (intermediate lessons). Check out Zone4.ca to sign up. If you have any questions please contact Bernadette at ykskiclubprograms@gmail.com for more information.
Instructors Rob Matthews and Jenn Stranart teaching their first lessons of the season, Adult Beginner Ski Lessons. Participants were perfecting their Shuffle-Shuffle-Glide!
Waxing Lessons
The sessions for introduction to grip waxing are now all full. A huge thank you to Oliver for creating, organizing, and teaching these wonderful lessons! We were able to snap a few photos from a recent session:
Trail Updates
There's a good base of snow out there now, but we still need more to develop our nicely groomed trails. Our groomers were able to get the Snowflake Trail rolled, but no tracks yet. And a big thanks to Robert Tumchewics for all his hard work on the trails so far!
Trail brushers have been trimming some of the remaining willows. A big thanks to Julie Ross and John McCullum for coordinating the annual brushing. Thanks to the volunteers who put in 300 hours each fall to clear the annual growth of willows, supply gas, service equipment and get the blades sharpened.
John Stephenson and Gene Hugo clearing willows
Gene Hugo clearing willows
Thanks to Niels Konge
For the past three seasons Niels Konge has generously groomed the Frame Lake ski trail and we would like to take this opportunity to thank him! This beautiful ski trail has become one of the most popular trails due to its great downtown location – especially for those working downtown to be able to fit in a ski during their lunch breaks, a nice flat trail for all those new to skiing, and made for a great location for last year's Frostnip Ski Event!
We will miss seeing Niels Konge out on his track setter (picture below) as he is not able to continue to provide this service, but hope other organizations and/or volunteers might be able to keep this very popular trail going! Again, many thanks Niels from the Yellowknife Skiing Community!

Handy Dates to keep in mind…
Sunday, December 12, 2021 – Candy Cane Forest

Ski

– Free

Ski

Sunday, January 16, 2022 – World Snow Day – Free

Ski

Sunday, January 30, 2022 – "Boys on Boards" all ages Costume

Ski

Sunday, February 13, 2022 – NWT

Ski

Day – Free

Ski

Saturday & Sunday March 12 & 13, 2022 – YK

Ski

Races
Sunday, April 3, 2022 – Yellowknife Gold Loppet
Saturday, April 9, 2022 – Nordic Cross
SKIGO BINGO is back on!

Beginning of season to January 10 – SKIGO BINGO #1
January 11 to April 11 – SKIGO BINGO #2
That is all for this week!
Happy Trails!!
Ashley Janes
Volunteer Communication Director