In case you missed it, the Yellowknife
Ski
Club
was buzzing with activity this past weekend, where you could have spotted Care Bears, Mr. Incredible, Harry Potter, Raggedy Ann, Batgirl plus others out for a
ski
! This is of course all because the YKSC hosted an All-Ages Costume
Ski
Event and there was a Learn to Train Coaching workshop as well.
Here are some photos that capture the fun activities that took place last weekend at the Club:
There is still so much more happening this ski season, so don't fret if you missed out last weekend! We have more coming up:
Sunday, February 13, 2022 – NWT

Ski

Day – Free

Ski

Saturday & Sunday March 12 & 13, 2022 – YK

Ski

Races
Sunday, April 3, 2022 – Yellowknife Gold Loppet
Saturday, April 9, 2022 – Nordic Cross
Monday, April 11, 2022 – SKINGO BINGO Cards are Due
---
Are you ready for round 2 of SKIGO BINGO?
We are so excited to announce the second round of SKIGO BINGO!
Have fun setting new goals and checking off your card for activities you have completed between January 25th to April 11, for a chance to win some exciting prizes donated by Overlander Sports and Canadian Tire!!
Download your card here and the junior card here, then get outdoors and get skiing!! 1line = 1 entry, 2 lines = 2 entries, etc… blackout = 10 entries!!! Submit your card to skigoyellowknife@gmail.com by April 11. Share your fun on social media and use #skigo @ykskiclub
Intro to Cross Country
Skiing

Course added for February

One more course is added this month due to popular demand! This course is for adults who are relatively new to skiing. The course will cover fundamental techniques that will quickly improve your comfort on skis and your skiing ability. The course will take place from 1-3pm over four Sundays starting on Feb. 6, 2022. Sign-up today on zone4.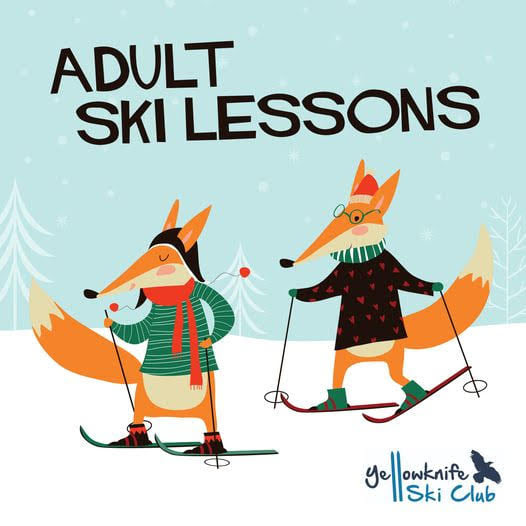 NWT
Ski

Day February 13th

NWT Ski Day is coming up, Sunday February 13th! Bring a friend to the Club to enjoy free skiing for the whole day. Stay tuned for more!
Frostbite 50 March 19!
This year's Frostbite 50 is scheduled for Saturday, March 19th, and they're on the lookout for volunteers to make the day a huge success!
Many different roles are needed including lots of people throughout the day at check-stops, people willing to cheer their friends and family on to support their endurance efforts! For those early birds, there's also support needed before the event!
Check out our volunteer website for more details http://www.frostbite50.com/p/volunteers.html or reach out directly by email to sign-up as a volunteer today ykfrostbite50@gmail.com.
That is all for this week! We hope to see you out on the trail!
Happy Skiing!!
Ashley Janes
Volunteer Communications Director