A friendly reminder to our skiers, coaches, volunteers and other guests: in order to have an increase in the number of people allowed into our facilities we need to be due diligent in following public health orders, which means people inside our facilities need to be wearing a mask and for those aged 12 and up need to be fully vaccinated. We greatly appreciate everyone doing their part to follow these orders and keeping everyone safe!
We are happy to see more snow in the forecast this weekend, which means more trails to be set! The YK Ski Club will be doing their best to keep this board up-to-date, so feel free to snap a pic and post on the Yellowknife Ski Updates to share with your fellow skiers!
New Program Alert! Learn to Frostbite 50
The "Train to Frostbite 50" is an offering for people who want to increase their endurance, learn trails around the YK bush, dress and snack for cold-weather sports, break their personal best longest ski week after week, AND MOST IMPORTANTLY truly enjoy being outdoors this winter.
Each week, for the 12 weeks preceding the Frostbite 50, you will receive information and maps of one recommended short (fast) skis, an indoor workout (not requiring any specialized equipment), a motivational interview with a former Frostbite 50 skier, and most importantly a map for a recommended long weekend ski. The group skis will take us into the bush around Yellowknife and introduce you to your new favorite wilderness trails. Over the program, there will be approximately 12 group skis ( 6 shorter and 6 longer). Several of the longer skis will be more remote and skidoo supported.
We will also host several in-person strength and stretching sessions at the YK Ski Club chalet. Other highlights –hot waxing tutorials, opportunities for indoor cross-training, new friends, motivation to ski all winter in all weather conditions!
Sign-up while space is still available at zone4.
Adult Classic
Skiing

Lessons – a few spots left!

Intermediate Classic Skills

This course is for adults who are looking to improve their fundamental classic skiing skills. Participants should be comfortable on cross-country skis but can be relatively new to skiing. This course will focus on improving fundamental skills, which will result in increased efficiency and enjoyment of skiing. Dates: December 27 and 28.

Introduction to Cross Country Skiing

This course is for adults who are relatively new to skiing. The course will cover fundamental techniques that will quickly improve your comfort on skis and your skiing ability. This course is a bit different than our normal beginner lessons. It will take place from 2-4 pm to get you ready for holiday skiing. Dates: December 22 and 23.

For more information and to sign-up visit zone4.
SKIGO BINGO
As we continue to get more snow and new skiing routes open up, don't forget to check-off boxes on your SKIGO BINGO card! If you haven't already, download the adult card here or the junior card here. Then head outdoors and start skiing, and prepare to win amazing prizes – such as a $1,000 towards a trip to Blachford Lake Lodge.
One line will get you one entry in the draw; two lines equals two entries; and a blackout will get you five.
Deadline is Jan. 10th. Send completed cards (or rather, photos of them) to: skigoyellowknife@gmail.com.
Volunteers needed to help sort through skigo bingo cards and award prizes – if interested please contact Kerry Wheler at ykskiclubevents@gmail.com.
Candy Cane Forest
Ski
Thanks to all who came out to last weekend's chilly Candy Cane Forest Ski, and to those who spent the day putting up hundreds of candy canes in the trees (psst…I hear there are still lots out there to be found!).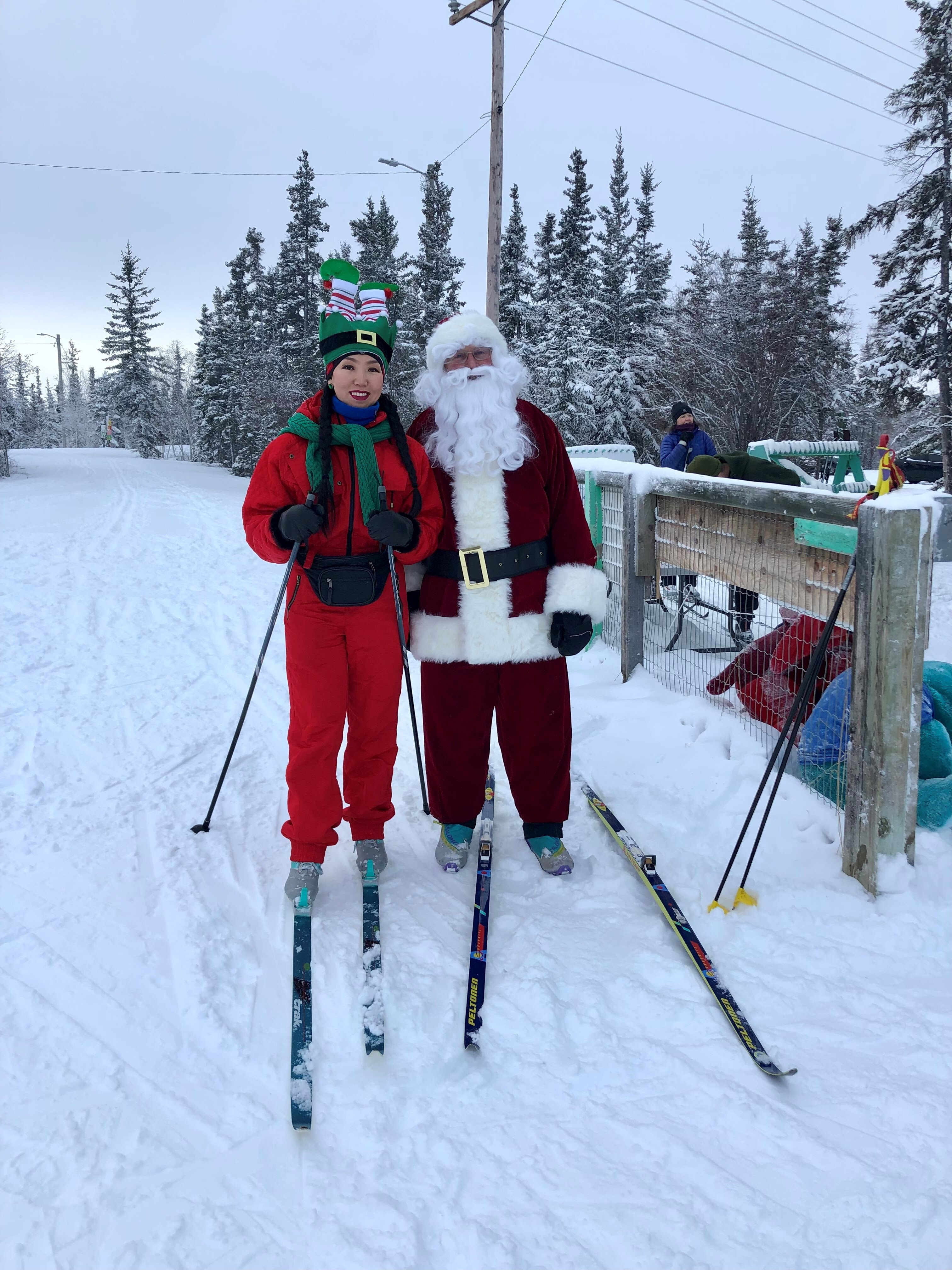 Thanks also to James McCarthy at the Yellowknifer for braving the cold. Find his story here.
And finally, we had a jackrabbit skier loose their poles last Sunday at the ski club. Last seen they were leaning on the fence. They are approximately 110cm and are red with a little bit of gray on the grip. We understand this was probably an honest mistake, but if you accidently have them in your possession please contact info@skiyellowknife.com.
That is all for this week! Stay warm and stay safe!
Happy Trails!!
Ashley Janes
Volunteer Communications Director