Thanks to our coaches!
The Beijing 2022 Olympics are happening this month. We all get a front row seat to watch the best athletes in a multitude of winter sports. The Olympic Team for Cross Country Skiing includes athletes, coaches, managers and wax technicians. All of those incredible skiers started at their community ski club as youngsters. Dahria Beatty, from Whitehorse, started with Jackrabbits at age 3 shuffling around without poles just like all the kids at the Yellowknife Ski Club. Behind Dahria and all those kids are parents and sport volunteers especially coaches.
CCNWT organized two National Coach Certification Program (NCCP) coaching courses at the end of January in Yellowknife. NCCP certifies progressive levels of coaching from introductory Community Coaching to High Level Competitive Coaching.
The weeknight sessions of Community Coaching (CC) gave nine participants tools to use for their volunteer coaching at Jackrabbits and Ski-at-School. One learning facilitator was also trained so that we can offer the CC course with a local instructor in the future. Nine different coaches received training and certification on the weekend in the Learn to Train (L2T) Program with a focus on athletes in the ages of 8 – 12 participating in our Track Attack Program.
A big thanks to the contributors to this training session.
Cross Country NWT (CCNWT) is the Territorial Sport Organization for cross and provided funding for this training along with funding for a myriad of events throughout the year.
GNWT Municipal and Community Affairs (MACA), Sport and Recreation provides the funding to CCNWT for these purposes.
Cross Country NWT staff person, Sarah Pruys, provided support for logistics and registration.
Allison McArdle was the capable instructor from Calgary, Alberta.
YKSC volunteers helping to make it all happen were Kerry Wheler and Bernadette Knox.
Coaches not only teach fundamental ski skills. They also promote positive attitude, teach organization skills, build relationships and otherwise mentor the athletes in many ways. Mahsi cho to our coaches throughout the club programs. You make a difference in the lives of our children.
---
Community Coach participants
Christine Lewandowski:
Sophie Mahon
Kelly Slack
Paul Clyne
Jay Mauchan
Meghan Schnurr
Oyuka Bernabe
Karin Taylor

L2T participants:
Mike Palmer
Julie Ward
Julian Kanigan
Meghan Beveridge
Kerry Wheler
Brett Wheler
Julia Gyapay
Rosy Tutton
Rosie Benning
More info on Coaching – https://nordiqcanada.ca/coaches-and-wax-techs/coaches/coaching-development/#
---
Parking lot update!
With the increased number of skiers in the Jackrabbits and Bunnyrabbits programs, we would like to improve the safety of the parking lot by having designated areas for pedestrians. Below, you will find a traffic flow proposal that we will try out in the next couple of weeks.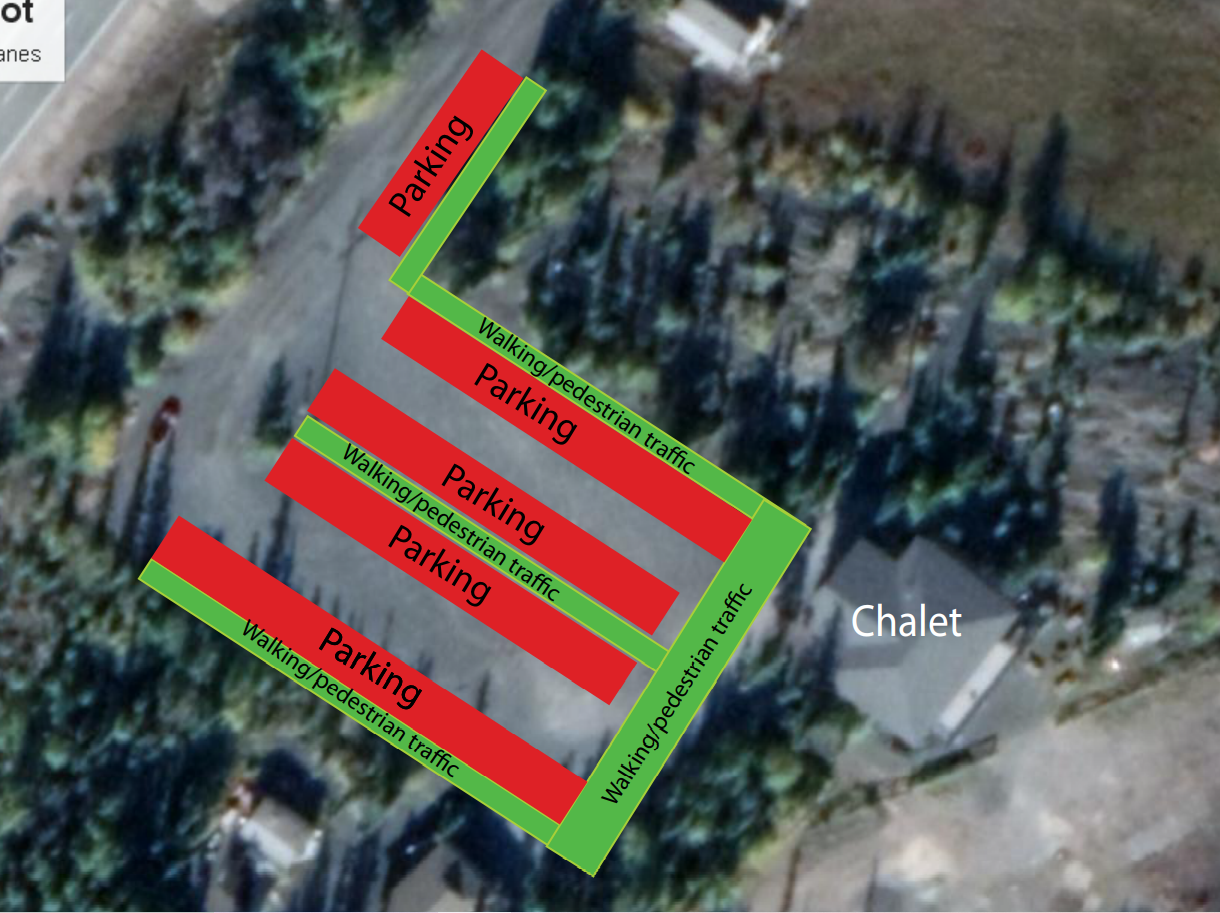 There will be pylons to help identify where to walk. We ask that you park behind them so that there is room for pedestrians. Please use these designated walking lanes and educate your children to do so as well. Hopefully this will allow drop-off to be safer and make it easier for people to get in and out of the parking lot.
Please keep in mind that this traffic flow proposal is still in the trial stage. We will communicate the final changes once we have ironed out the details. We thank you for your cooperation!
We would also like to take this time to acknowledge and thank the City of Yellowknife for providing snow clearing on our access road and parking lot!
Frostbite 50
Whether it's your first or your fifteenth, the Frostbite 50 offers an exciting endurance challenge! A 50km ungroomed track that meanders through some of Yellowknife's most scenic lakes. Support, checkstops, and safety is provided.
Sign up today as an individual or convince a group of friends to join your relay of pain! http://www.frostbite50.com/
Thebacha Loppet – March 5th
Registration for the 49th Annual Thebacha Loppet – scheduled for Saturday March 5, 2022 – is now open. Interested folks can register by following the links at https://fortsmithskiclub.ca/.
Your weekly dose of Trailvia…
Fact: in the 2002 Olympics at Salt Lake City, the ENTIRE Canadian biathlon team learned to ski at the Yellowknife Ski Club. Yup, no lie. Of course only one person, Robin Clegg, qualified for the Sprint, Pursuit and Individual Biathlon events. The Cleggs were pioneers of skiing in YK and developed many of the trails we use today. So, their kids were some of the first to try them out!
Google "2002 Olympics Canada Biathlon". Also, try "Robin Clegg Olympics". He made the team again in 2006 (same events) and 2010 (just the relay but with another NWTer, Brendan Green). No medals, but we are so proud!