Well the ski season was slow to start this year with warmer weather and no snow, but that hasn't slowed the YKSC with its line-up of events and programming. All just in time to enjoy this flurry of snow we've received over the last week – great to see so many people out enjoying the trails!!
To help keep the momentum going we are offering waxing lessons, selling stylish and custom ski suits, hosted our annual Chix on Stix event today and hosted a very successful Snow Show event last week. If you have missed out on any of our events, don't fret we have lots fantastic stuff planned for this ski season, so tuned for more to come….
Intro to Grip Waxing – 1.5 hours
New to skiing? Need a seasonal waxing refresher? Want to improve your kick? Join us for an evening Intro to Grip Waxing session. Sign up on www.zone4.ca.
Wax and supplies provided, just bring your skis. Feel free to bring your own wax.
Remember: Grip wax isn't needed for waxless skis. If you own fishscales or skins you are all set. Happy Trails!
Please Note: following YKSC Covid protocols proof of vaccination required to enter the Chalet. Sessions limited to 3 participants.
Warm-up and Race Suits Are Available
to Order Unit December 1st!
Don't miss out, only days left to order your stylish Louis Garneau Custom Warm-up and Race Suits in both junior and senior sizing on zone4.
There are no sizes to try on unfortunately, but you can check out the catalogue here that includes sizing charts. We hope for orders to be here by the end of December, but there are no guarantees.
Note: Jackrabbits and Bunnyrabbits do not require these suits to participate in programs. If suits are required for the other programs arrangements would be made with participants outside of this order and would be notified by their coaches.
Chix on Stix
Daughters, moms, girlfriends, grannies all had a blast this weekend dressing up in their Halloween costumes again! The event kicked off with a ski Zumba, hot chocolate and homemade goodies.
A big thanks to Oyuka Bernabe for organizing the event and leading the Zumba dance party (top left photo) and to Canadian Tire for generously donating lots of door prizes!
The final Snow Show Numbers Are In!
The YKSC would like to thank the volunteers, organizers, last but not least, the skiers that came out to support the annual Ski Show!
The final numbers are in and we are happy to announce we raised approximately $3,800 for the club in total. $1,500 from ski waxing, $1,150 from bake sale, $800 from ski swap, and $370 from 50/50.
Here are some moments captured from the event:

Our team ready to receive skis for ski swap. Left to Right: Kerry Wheler, Oliver Hodgins, Jess Dunkin, John Stephenson, David Gilday

Ski Swap Rhiana Bams and Oliver Hodgins

Ski Swap – Chris Hotson, David Gilday, Pam Dunbar, Damian Panayi

Line up for ski swap

Kerry Wheler with info sign

Landon Kowalzik checking proof of vaccine for Julie Ward and Doug Townson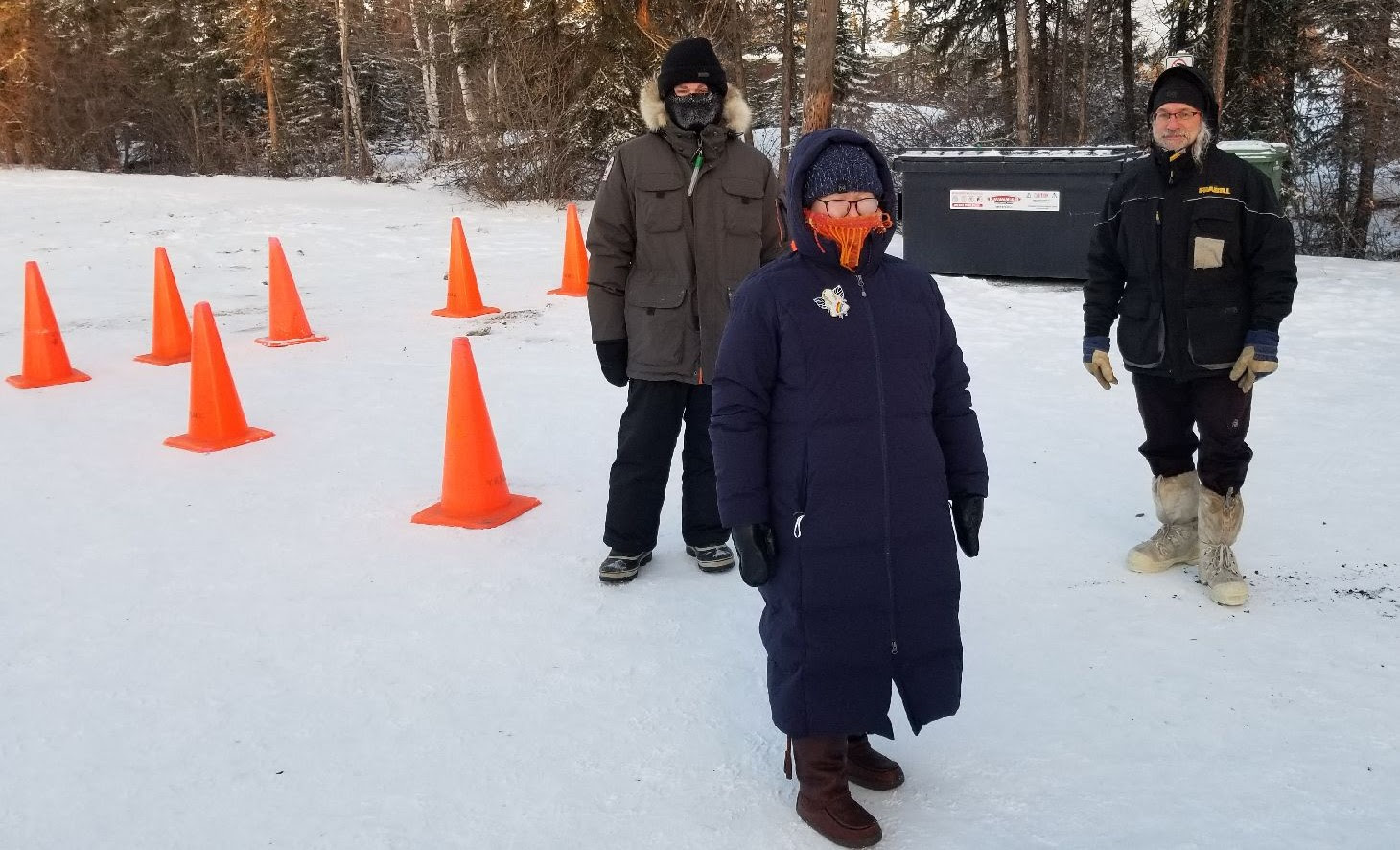 Welcome team – Graham Arts, Shirley Zouboules and Ritch Klakowich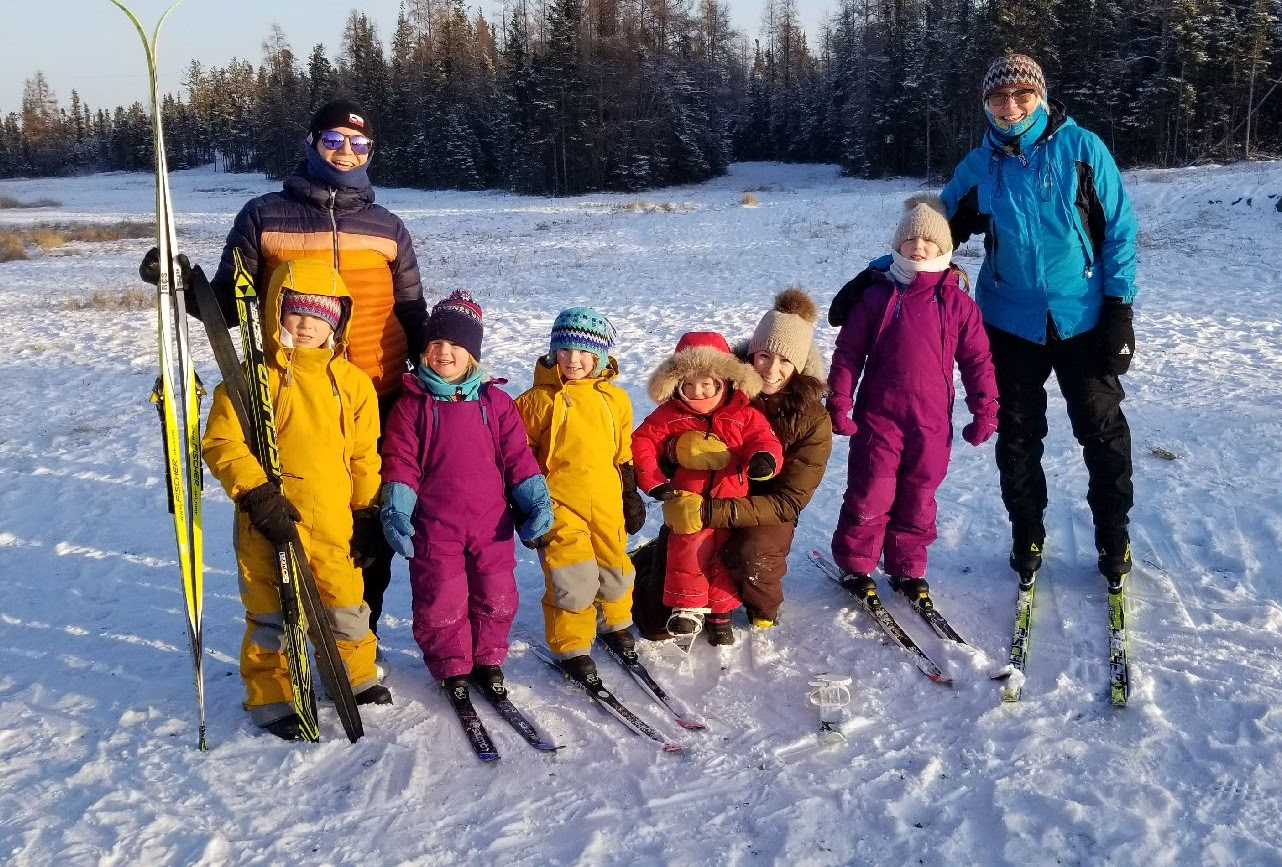 Skiing Family – 3 generations. In front of Ella Wray, from left to right are Barrow Wray, Lani Scott, Essex Wray, Cleo Scott holding Atlas Scott, Rielle Scott & Karin Stinson. The two youngest are first time on skis!
Well that wraps up this week's YKSC news, here are some handy dates to keep in mind….
Sunday, December 12, 2021 – Candy Cane Forest Ski – Free Ski
Sunday, January 16, 2022 – World Snow Day – Free Ski
Sunday, January 30, 2022 – "Boys on Boards" all ages Costume Ski
Sunday, February 13, 2022 – NWT Ski Day – Free Ski
Saturday & Sunday March 12 & 13, 2022 – YK Ski Races
Sunday, April 3, 2022 – Yellowknife Gold Loppet
Saturday, April 9, 2022 – Nordic Cross
The popular SKIGO BINGO is back on!

Beginning of season to January 10 – SKIGO BINGO #1
January 11 to April 11 – SKIGO BINGO #2
Happy Trails!
Ashley Janes
Volunteer Communications Director