As the YKSC events and programs are wrapping up, a big thanks to our board of directors, coaches, groomers, volunteers and those who participated in our events and programs this years. It has been a fun, safe and active ski season that was made possible because of you!
Do not fret, there is still some great skiing left this season before the sun melts all the snow away. Sean Marshall and Chris Hrkac did a great service grooming the Ski Club trails! Thanks guys! Sean reports: "Chris and I freshened up the skate lane of the 5K and related loops and Fault Lake. Snow quality is quite good for late season considering no new snow in weeks and a fair bit of sun. The only no-go in the route is the entry to the biathlon stadium where the spring pond has covered the full width of the trail. Bypassing by cutting behind the range is an option."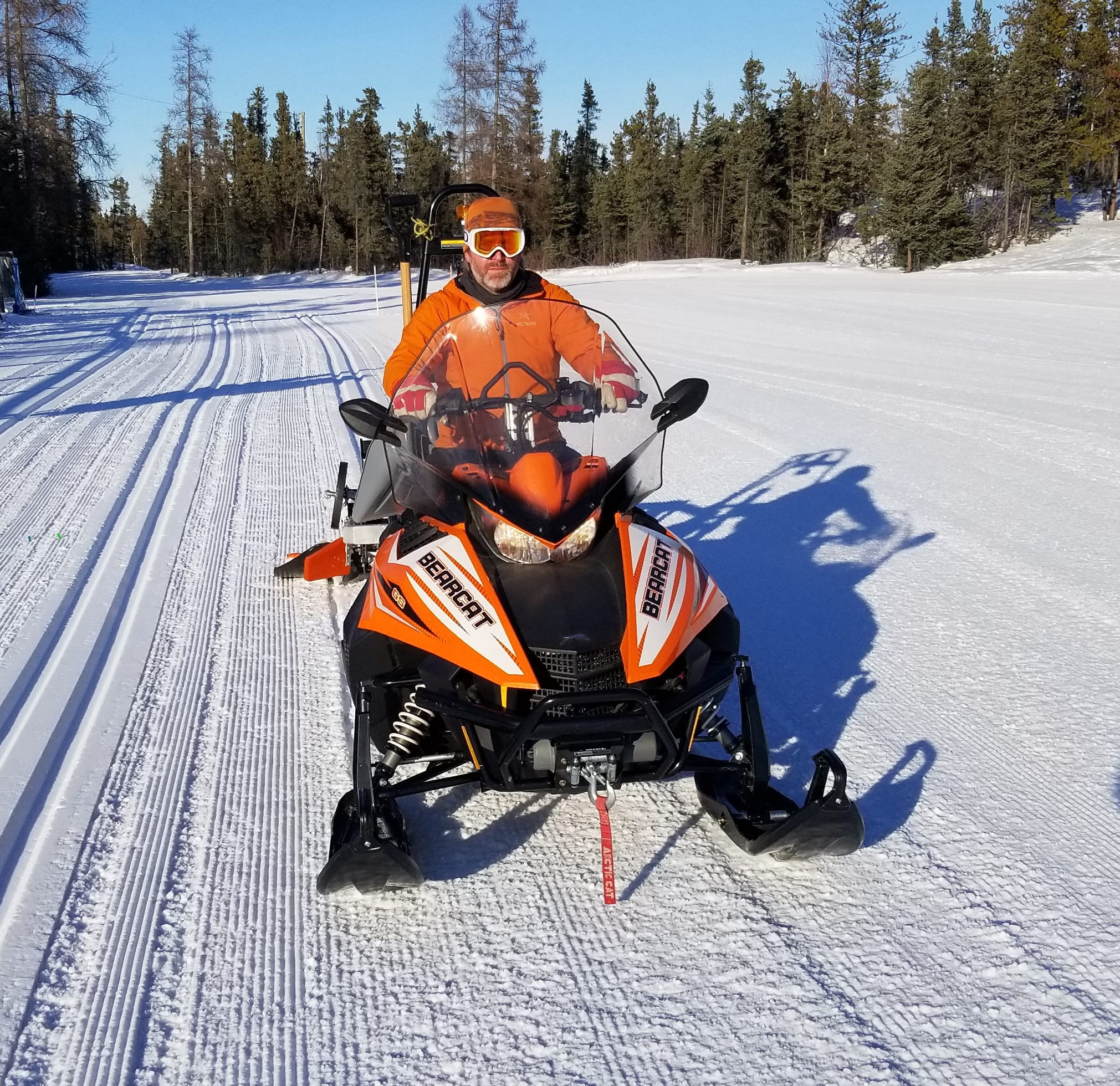 Nordic
Ski

Event

Thanks to those who organized, volunteered and participated in the Nordic Cross Ski Event – nearly 50 skiers signed up for this fun event. This event was made even more exciting with a surprise racer – Dahria Beatty – fellow northerner and member of Canada's 2022 Olympic Nordic ski team! Dahria graciously handed out cookie medals and chatted up lots of young skiing enthusiasts!
(Photo credit: Heather Scott, photo: Olympian Dahria Beatty with Nordic Cross ski participants)
Dahria Beatty made time to chat with the High Performance skiers at their practice. It's not every day that one of Canada's top skiers graces our humble club. This amazing and down-to-earth athlete shared some important lessons with the HP team:
*Do lots of different activities and have fun! When Dahria was of track attack age, she skied about twice a week and also spent time having fun with other sports and hobbies. She didn't specialize until her later teens.
*Before a race, eat a good breakfast. Dahria shared that she eats eggs, toast and fruit, as well as a light snack before the race. Fuel up, kids!
*Growing up in a northern town is special for little skiers! Like her native Whitehorse, Yellowknife is a small and tight-knit place. So the ski trails are close by and easily accessible. Also, you get to know your ski buddies well, as they're likely at your school, on your teams, or live in your neighbourhood.
Thanks again Dahria! We think you're pretty rad and really appreciate the time you've spent with us!!
NWT Championship Race
We have a treat for you! Vincent Ret of VR Studios responded to our last-minute call for a photographer at the NWT Ski Championships and we are overwhelmed by the amazing results. Big thanks to the photography team for these gorgeous shots.
Our last Trailvia of the seaon!
Anita Gue wrote: "I would like to know about stromatolite hill – and is that really fossil stromatolites at the sign? Where did it come from, surely it's not found in place there? Thanks!"
YKSC reply: Yes, Anita, the large rock beneath the Stromatolite sign really is a stromatolite, And yes, it is a fossil, just not the Drumheller type. It likely came from the East Arm, courtesy of the glaciers and left here along with the other "erratics" like the red sandstone you might see lying loose on the YK bedrock. A large specimen, it must weigh well over a tonne, so it wouldn't have been moved much by the ski trail builders from where the glaciers dropped it.
The descriptive name comes from stromata (films in biospeak) and -lite (stone in geolingo). And that's what it is – a boulder made by slimy pond scum bacteria, the blue-green type, long, long before the dinosaurs. The slime trapped sediment that built up in layers, a feature we can see today.
But those slimers did something else very non-trivial. While growing, they sucked up a lot of poisonous gases, like CO2, and gave off oxygen, which was in short supply then. That allowed other life to get going and flourish.
So, as you grab a lungful of oxygen before heading up that hill to end your winter ski or summer walk, thank the stromatolite.
It's all about getting outdoors and enjoying nature…
Thank you to one of our
ski
members, Richard Klakowich, who shard this beautiful photo of a bald eagle while
skiing
by Fault Lake. He has seen two of them in this area while
skiing
the last few weeks. Make sure to stop and take a look for them while in the area.
It's been a pleasure drafting this season's
newsletters
and will be the last one for the season. A big thanks to those who helped provide me support and input to produce these weekly updates! We will send a message out once a date is set for the AGM and keep you updated on any other important
ski
news.
Hope you enjoy the sunny weather and slick skiing that is left for the season!
Happy Trails!!
Ashley Janes
Volunteer Communications Director